Being a dentist is a privilege. I take my work seriously: In a world where services are increasingly seen as a commodity, I take pride in not regressing to the mean and, instead, delivering lasting, quality dentistry.
I am most passionate about providing each and every patient with the opportunity for optimal oral health. Because of this, I am thorough in the diagnostic process, which allows me, in turn, to provide each person with treatment options best suited for that person's unique situation.
I am excited about treatment planning: the process of finding a solution to a difficult situation. I derive satisfaction from restoring function to a patient who didn't know where to turn, or changing a smile and giving the person the confidence to laugh without automatically masking his or her teeth.
I love that no two patients are alike, no two situations are the same, and no two problems have the same solution.
What I do, each day, makes a difference for the individual who is seeking a resolution to a problem. I live for the opportunity to meet and help those people: by not compromising on quality, I am able to provide everyone an opportunity for improved oral health and happiness. As a result, I can look in the mirror and be at peace with what I do and how I serve.
Dentistry… it is where I belong.
— Dr. Rachel Anne Day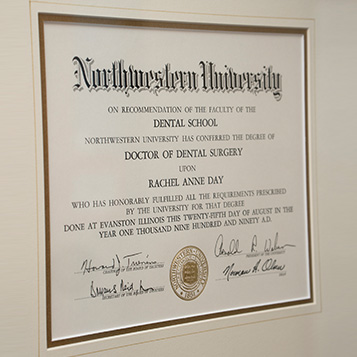 Education
The successful practice of dentistry depends on the ability to solve problems prior to starting treatment, since each patient has unique concerns. Dr. Day's commitment to continuous learning allows her to provide patients with the current standard of care. To do anything less would be a violation of the trust they place in her.
Dr. Day's continuing education includes long-term membership in the Seattle Study Club and Spear Education Study Club (where she serves as a leader), in addition to attending numerous meetings, lectures, and seminars all over the United States.
Professional Memberships
Beyond the Practice
Dr. Day grew up on a farm near Buck Creek, about 20 minutes from Lafayette. After spending time in both Chicago and the greater Boston area, she returned home in 2006 and resides in West Lafayette with her husband, Michael Davis, who is employed at Purdue.
The couple has three adult children living Lafayette and Seattle.
Outside the office, Dr. Day enjoys reading nonfiction and kayaking with her husband, as well as traveling around the US and visiting their children. She also likes hiking, preferably in the White Mountains or Down East Maine. Any trail that is through the woods and near water is dear to her.
Locally, Dr. Day and Michael enjoy music festivals, farmers market, and tailgating at Purdue football games. The couple participates in the International Friendship Program at Purdue as well, which involves taking international students who are new to Purdue under their wing during their time at the school.